Freight & Logistics Services
Findways offers end-to-end logistics solutions irrespective of location. We also provide comprehensive advisory services on a variety of international trade issues such as compliance and trade regulations. This advice is absolutely free of cost to customers utilizing our services. Our team works to provide you with the best value for money. It constantly analyzes the costs involved and endeavours to discover ways for your freight to be delivered quickly and at the most economical costs. Throughout it all, the security of your consignment is never compromised upon.
Air Freight
At Findways, we ensure that air cargo reaches our customers safely and on time. Punctuality and reliability are a huge part of our services. Customers can rest easy in the knowledge that their cargo will be transported to their desired destinations in top condition. In order to offer clients the best services possible, our air cargo specialists work closely with all airlines operating in the Middle East. As a team, we are dedicated to speed, economy, precision, safety and total customer satisfaction.
Import by Air
Our experts provide you with the best routes at the best rates. Goods can be passed through customs within a few hours of their arrival, and delivered the same day. Our 24-hour customer help executives also provide assistance and advice related to urgent shipments that arrive after office hours.
Export by Air
Findways provides you with the easiest and best export services. We specialize in moving cargo of all weights, shapes and sizes. We also provide end-to-end monitoring of your shipments.
Road Distribution
Findways provides road freight forwarding services throughout the Middle East. Customers are offered reliable and tailor-made solutions with the shortest possible transit time.
Our range of services includes:
National and international transport
Completely equipped trucks
Container transportation
Temperature-controlled transport
Transport of cargo with special requirements
Time-phased transport
Pick up and delivery
Project Cargo
We understand that importance of every piece of equipment in your Project.
A chain is as weak as its weakest link and therefore we want to ensure that every equipment of your Project is handled with care.
Whether it is heavy engineering equipment or rig operations gear, tanks or boilers, precision cases or boats, we ensure your cargo is handled with efficiency and effectiveness. The task of loads that cannot be unitized requires exceptional management of equipment and control at a minuscule level. This also requires detailed Project planning, route selection, site survey, packaging, transport, cranes, communication, stowage and delivery. Our distinctive combination of backward and forward integration of shipping, logistics and marine capabilities mitigates risk and cost, provides transparency in handling and peace of mind throughout the project movement.
Our Services include:-
Logistics, Procurement & supply services
Handling of In Gauge and Out of Gauge Cargoes that are Over Weight and Over Size
Survey and Inspection Services
Safe & secure storage and warehousing Provision
Regular and special transportation services
Costing studies / Inspection / Feasibility studies
Special equipment transport
Sea Freight
We provide a wide range of ocean freight forwarding services to almost all international locations. We have no restrictions on the size and weight of your shipments. In fact we offer customized solutions to meet your needs.
For both LCL and FCL Ocean freight consignments, we provide world-wide services at extremely competitive rates. We also offer LCL consignment consolidations in order to meet your requirements.
Ocean freight consignments are booked as per the customer's export instructions and vessel details. Estimated sailing and arrival times are notified to the customer via telephone, fax or email. Once the container has been stuffed, a status report is sent out. The sailing information is also passed on to the customer in a similar fashion.
In addition to providing freight transportation and issuing a bill of lading, we also maintain a list of articles for cargo containers. Our representatives stay close to your shipment from pick-up to delivery, keeping you closely informed of its progress. We also provide you with advice and technical assistance in order to ensure safe delivery of the cargo.
Custom Clearance
Findways provides trustworthy and expert customs clearance services at both airports and seaports. Our in-house brokers and professional staff provide customers with complete and valuable customs information which helps them save on time and costs.
Our wide range of customs clearance services include:
Ensuring that the cargo is approved by the regulatory authorities
Offering customs advice on all the modes of freight forwarding including land, sea and air
Arranging storage facilities during the clearance stage
Coordinating between warehouse statutory authorities and shipping lines
Speedy transaction of all customs formalities
Providing the client with all the necessary certificates and documentation
Documents required:
For both sea and air import shipments, the following documents are required:
Original Bill of Lading/Airway Bill
Certificate of origin duly attested by the Chamber of Commerce in the country of origin
Original Commercial Invoice duly attested from the Chamber of Commerce in the country of origin
Packing List
SASO (Saudi Arabian Standards Organization) Certificate (wherever applicable)
Authorization Letter from the consignee in favour of the customs broker. The letter must be written in Arabic and attested by the Chamber of Commerce.
Copy of the C.R. (Commercial Registration) of the Consignee
Specialized service of ship spares in transit
Our distinctive combination of backward and forward integration of shipping, logistics and marine capabilities mitigates risk and cost, provides transparency in handling and peace of mind throughout the delivery of important ships spares to the vessels. We offer origin to last mile delivery to the vessel.

Our working process - swish & done!
Our immense knowledge and massive experience have helped us to devise a simple working process to make deals more simpler.
Cautiously loading shipment
from the origin
Meticulous handling of
documentation
Watchful unloading at the
destination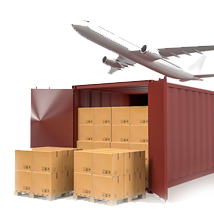 © 2022 Findways. All Rights Reserved.